Our Mission
Pursuing customer satisfaction
We are based on our management philosophy ("The purpose is customer satisfaction")
In order to obtain customer satisfaction, we have set "5 customer satisfaction",
To achieve this, we will sharpen and accumulate core technologies and know-how, and expand the applicable fields.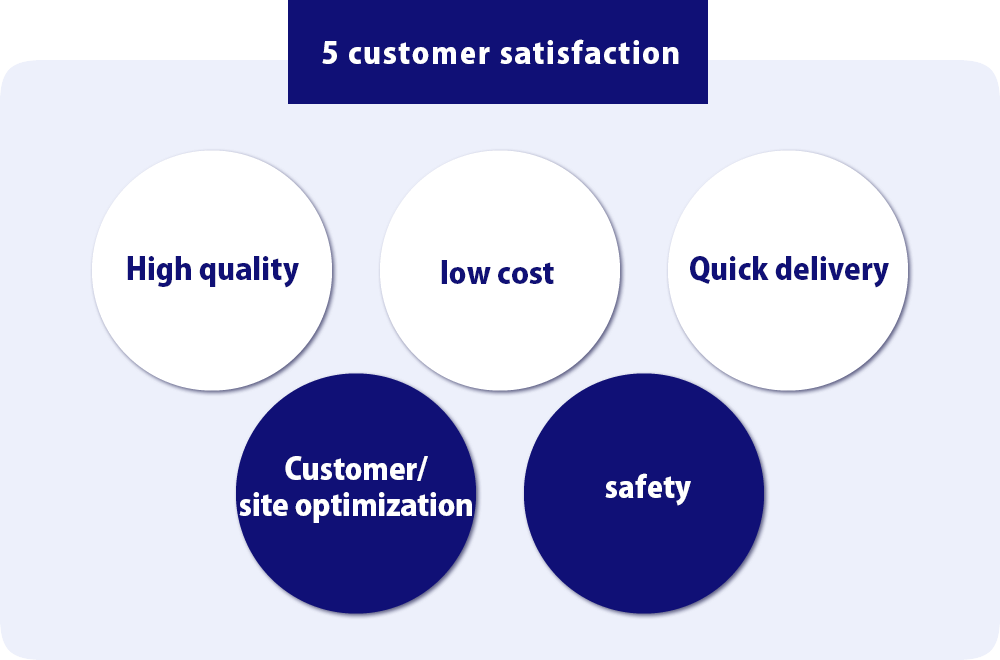 Overview
Overview of "core technology" development
Development of "core technology" and four directions for deepening
(1) Further deepening of piping technology
(2) Clean and safe construction management technology
(3) Forefront construction technology
(4) Device development/manufacturing/design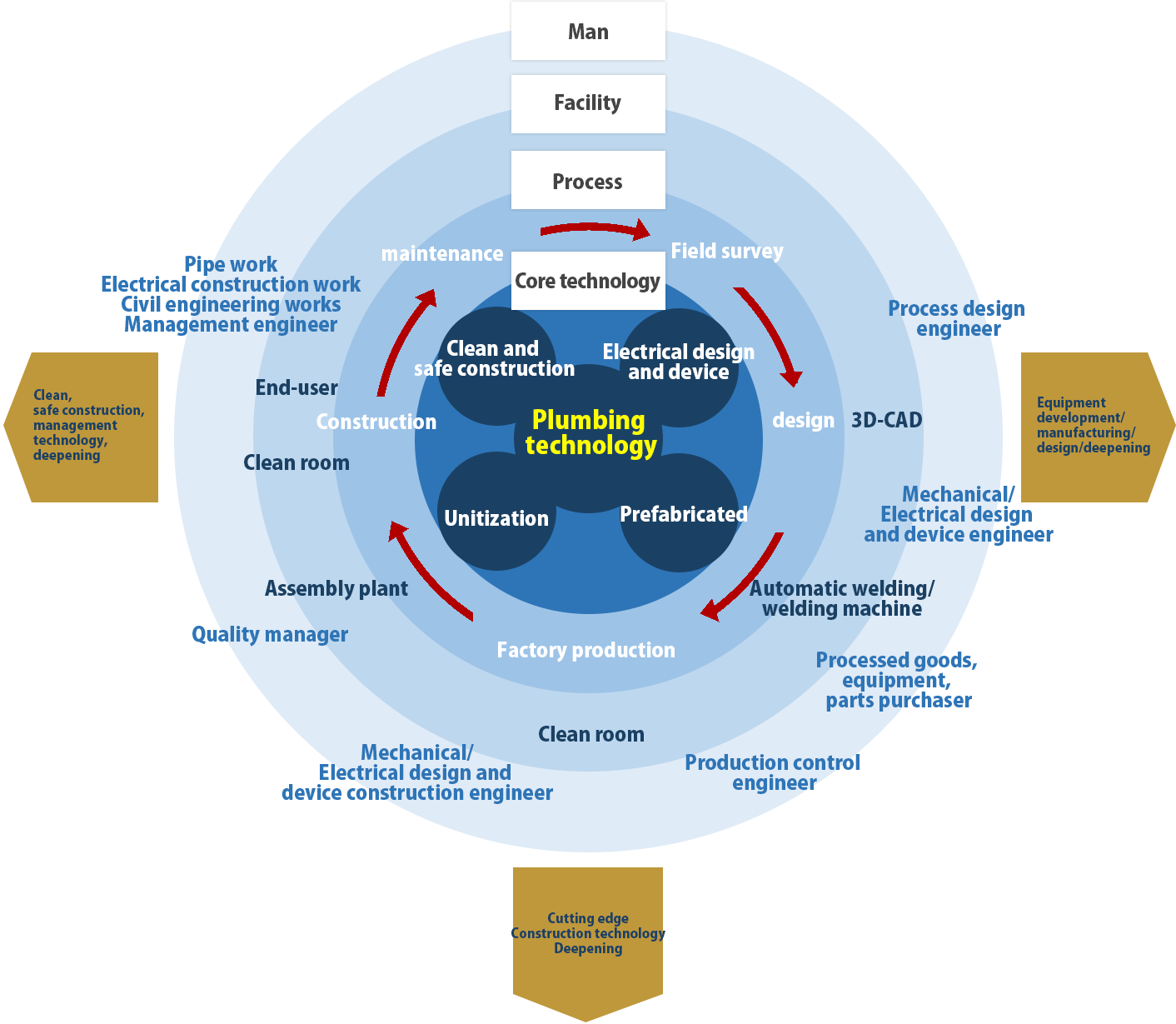 Our Speciality
Introduction of "core technology"
1

Piping technology
●Pipe joining technology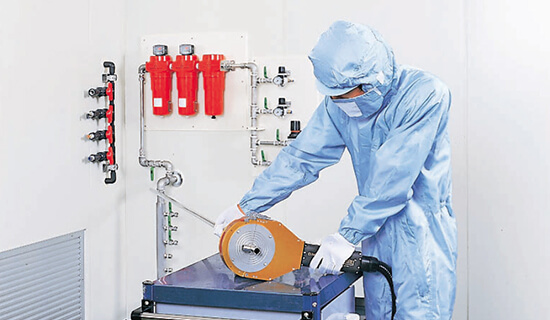 We have a lot of knowledge and experience in piping, from resin piping work such as PVC and PP to metal piping, across industries. We always adopt the latest piping materials to meet a wide range of customer needs.
Pipe joining technology responds to user requests, and manufacturers are constantly developing new construction procedures. Each time a new joining machine is created and made into a manual so that anyone can operate it, the more automated the machine is, the more important it is to judge the quality of the joint, and the experience and achievements of the operator are required. Our strength lies in the extensive experience of operators and the track record of seeking opinions from developers of manufacturers.
---
We have an abundant track record in pipe materials and construction methods whose mission is clean (low elution) and corrosion resistance, and we have earned the trust of our customers.
We have a track record in almost all materials and construction methods about resin, but we also have a large track record of metal tubes, mainly stainless steel tubes and pipes.
With PFA, PVDF, PVC welding machine and SUS tube automatic welding machine, we have abundant construction results.

In addition, we have abundant track record in construction in clean rooms and in high places and plants where fires are strictly prohibited, so please feel free to contact us.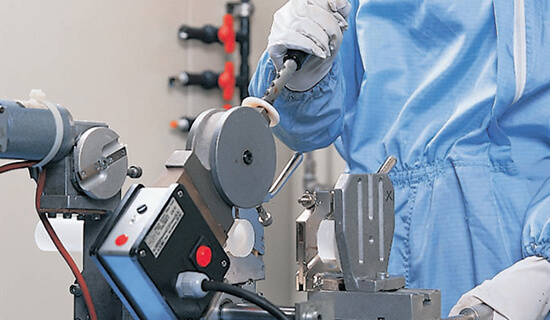 ---
2

Clean and safe construction
●Clean construction process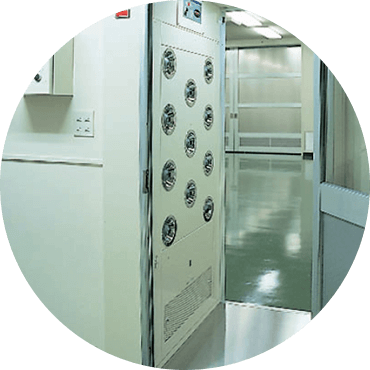 Air shower
In semiconductors and pharmaceutical factories, it is absolutely necessary that the inside and outside of the pipe be clean. Therefore, our construction technology is useful. End-users have a high evaluation of the material and connection technical capabilities (various types of welding) with little elution, as well as the abundant construction results in the clean room.
What is important in clean construction is how cleanly the inside of the pipe can be constructed so as not to hinder the startup of the equipment.
At the entrance of the clean room, change into dust-free clothes and go in and out through the air shower.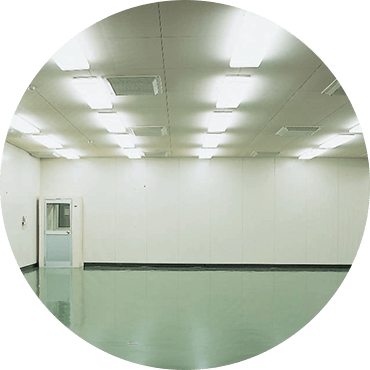 Clean room
As factory facilities, we have a clean room, clean booth, ultrapure water system, etc., and we carry out construction based on construction manuals and management standards.
The specifications of the clean room are 9,000 x 11,000 cm, class 10,000 or less.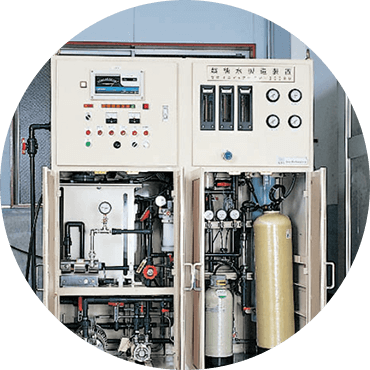 Ultrapure water equipment
The ultrapure water with a specific resistance of 18 MΩcm or more is stored in the buffer tank by the 300 L/hour ultrapure water production system, and the pure water piping in the clean room is circulated by the pump.
3

Unitization and prefabrication
●Know-how supporting unitization and prefabrication
Advantages of unitization and prefabrication
Quality stability
Improved safety
Reduction of work (design/ordering)
Efficiency of management process
Expedite delivery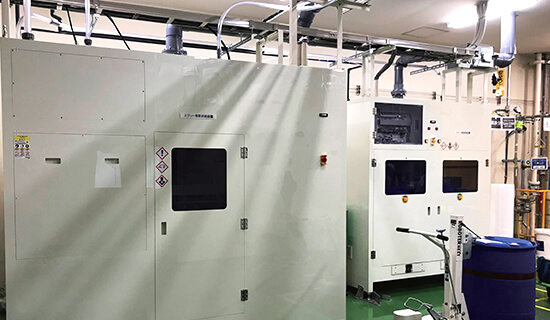 Slurry dilution supply device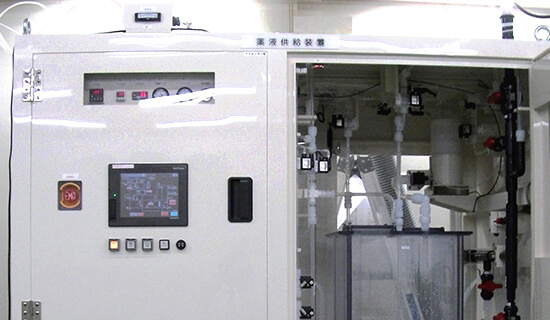 Chemical supply device
---
4

Electrical design and device
●Strengthening electric design and device technology that controls equipment
The mechanical part of the device is the human body, and the brain part that moves a fine body is electric design and device. Let us not only design and manufacture control panels that make full use of sequencers and touch panels, but also design and manufacture monitoring systems that use personal computers.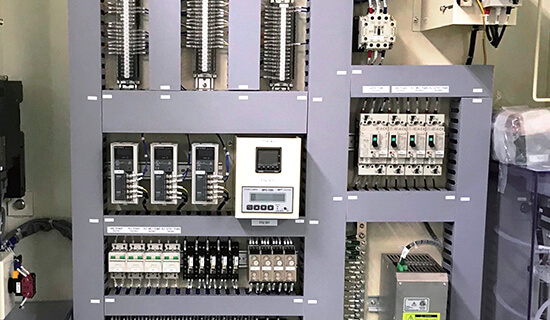 SEMI standard control panel
---